module
DIPviewer
Interactive image display.
Contents
DIPlib includes an OpenGL-based image viewer to help in the visualization of intermediate results. Its main purpose is as a debugging tool. It exists in its own library, which must be linked separately if used. The viewer contains two main classes
dip::viewer::ImageViewer, to visualize 2D 8-bit RGB images
dip::viewer::SliceViewer, to visualize 2D slices of nD (tensor) images
More than one viewer can be active at the same time, and the separate windows are managed by a primitive window manager. Two libraries are supported for window management:
GLUT (dip::viewer::GLUTManager): The venerable OpenGL Utility Toolkit, in the form of FreeGLUT.
GLFW (dip::viewer::GLFWManager): GLFW is more modern than GLUT, and better supported by MacOS. Its disadvantage is that it requires the user to poll an event handler from the main thread of the program, something that is baked into the MacOS Cocoa framework.
To use the dip::viewer::ImageViewer, the image must first be converted to 8-bit RGB, for example using the dip::ImageDisplay class. It does not have a user interface, and just shows the image.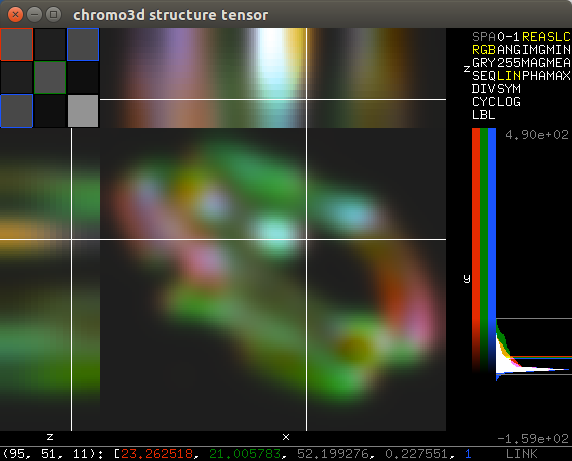 dip::viewer::SliceViewer is more elaborate. Its user interface consists of four main parts: The main visualization window, the control panel, the histogram, and the status bar.
The viewer is most easily used through the dip::viewer namespace. Simply call
dip

::

viewer

::

Show

(

 

image

 

);
after including dipviewer.h to show an image in the slice viewer. After all images have been shown this way, you can call
dip

::

viewer

::

Spin

();
to enable mouse interaction. If you wish to continue your program, you must instead call
dip

::

viewer

::

Draw

();
periodically. Make sure to call dip::viewer::Spin( ) when you're done to ensure a clean exit.
See examples/cpp/viewer.cpp for a usage example of the full interface.
Simple GLFW window manager.
Simple GLUT window manager.
Non-interactive 2D RGB image viewer.
Simple window manager.
Interactive nD tensor image viewer.
Show an image in the slice viewer.
Show a 2D grey-value or RGB image, of type dip::DT_UINT8.
Wait until all windows are closed.
Process user event queue.
Close all open windows.